---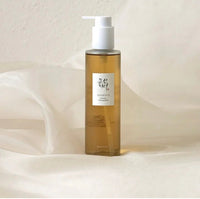 Titre : Beauty of Joseon Huile Démaquillante au Ginseng - 200 ml
Description : Découvrez la magie de la beauté coréenne avec l'huile démaquillante au ginseng de Beauty of Joseon, maintenant disponible au Cameroun. Cette huile démaquillante luxueuse est formulée avec des ingrédients naturels et ancestraux pour prendre soin de votre peau tout en éliminant efficacement le maquillage, les impuretés et l'excès de sébum. Le ginseng, ingrédient emblématique de la médecine traditionnelle coréenne, est au cœur de cette formule, apportant une dose d'énergie et de vitalité à votre peau.
Avantages du Produit :
Nettoie en profondeur : L'huile démaquillante au ginseng Beauty of Joseon dissout le maquillage tenace, y compris le maquillage waterproof, laissant votre peau propre et fraîche.

Hydratation Intense : Enrichie en ginseng, cette huile nourrit et hydrate la peau en profondeur, la laissant douce et souple, sans dessèchement.

Anti-âge Naturel : Le ginseng est riche en antioxydants, aidant à prévenir les signes du vieillissement prématuré, tout en stimulant le renouvellement cellulaire.

Convient à Tous les Types de Peau : Cette huile démaquillante est douce et adaptée à tous les types de peau, y compris les peaux sensibles.

Rituel de Beauté Coréenne : Adoptez un élément de la célèbre routine de beauté coréenne avec cette huile démaquillante qui prépare votre peau pour les étapes suivantes de votre routine.
Mots-Clés : huile démaquillante, Beauty of Joseon, ginseng, nettoyage en profondeur, revitalisation, hydratation intense, nourrit et protège, tous types de peau, expérience sensorielle.