---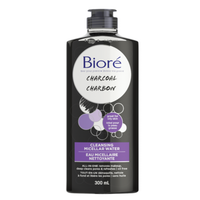 Charcoal Micellar Water effectively removes make-up from the face, eyes and lips while ridding the skin of pollution, excess sebum and impurities accumulated during the day.
• Removes make-up: removes make-up from the face, eyes and lips, even waterproof and stubborn
• Cleans: rids pores of impurities and excess sebum
• Refreshes & matifies: helps preserve the skin's radiance, for a fresh and luminous complexion
Bioré Charcoal Micellar Water is one of a kind. Designed with an unprecedented Japanese technology, the Bioré micellar solution contains an optimal concentration of cleansing micelles, giving the formula maximum cleansing properties.
The result ?
Micellar Water with Bioré Charcoal glides gently over the skin to capture impurities and excess sebum, unclog pores and remove makeup, even waterproof.
Revitalized, the skin is not dried out. The formula helps the skin not to overcompensate by producing more sebum.
Used regularly, this micellar water leaves the skin perfectly clean, fresh and matified.
Natural charcoal formula dermatologically and ophthalmologically tested.
Non-comedogenic (won't clog pores).
No greasy finish.
Using advice:
Soak a cotton pad in the product and pass it over the entire face until the skin is perfectly clean. To remove eye makeup, hold the moistened cotton pad for a few seconds on the closed eyelids, then dab gently, without rubbing. No need to rinse.
CAPACITY:
300ml