---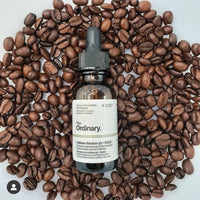 30ml bottle

With High Solubility Caffeine and Green Tea Catechin
This lightweight serum contains a very high concentration of 5% caffeine, as well as a purified form of Glucoside Epigallocatechin Gallate (EGCG) from green tea leaves. Independent research has shown that topical use of caffeine and EGCG helps diminish puffiness and dark circles around the eye area.
Product benefit
Visibly targets puffiness around the eyes and dark circles

Packaged in UV-resistant packaging due to EGCG's sensitivity to light.

Alcohol-free, oil-free, silicone-free.