---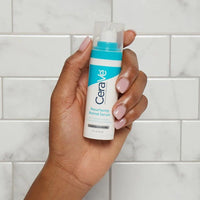 Post-acne marks and uneven skin texture can be constant reminders of acne breakouts, even once your acne is under control. One way to reduce the appearance of post-acne marks and visible pores is to use a gentle yet effective Resurfacing Serum that smoothes your skin without compromising its protective barrier.
Developed with dermatologists, CeraVe Retinol Resurfacing Serum helps reduce the appearance of post-acne marks, pores and smoothes skin. Our formula contains encapsulated Retinol , an ingredient known to help smooth skin texture. Plus, with three essential Ceramides , Hyaluronic Acid and Niacinamide , it helps restore the skin's protective barrier, lock in moisture and help soothe it. MVE technology delivers effective delivery through the skin's protective barrier with gradual release for all-day hydration. With continued use, this lightweight yet hydrating serum helps skin look smoother and healthier.
THIS FORMULA IS:
Suitable for sensitive skin
Non-comedogenic and fast absorbing
Paraben and fragrance free
Developed with dermatologists
THIS FORMULA CONTAINS:
3 Essential Ceramides : Essential for healthy skin, Ceramides help restore and maintain the skin's natural moisture barrier
Encapsulated Retinol : Helps smooth skin texture
Niacinamide : Helps soothe the skin
Hyaluronic acid : Helps lock in moisture on the skin's surface and helps skin retain moisture
MVE Technology: This patented technology gradually releases moisturizing ingredients throughout the day
Apply evenly to face daily.
Avoid direct contact with eyes. In case of contact, rinse thoroughly with water.
In case of discomfort during the first application, space the applications until the skin adjusts.
Apply sunscreen while using this product.