---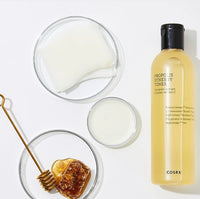 Daily stimulating toner synergizes with Propolis Light ampoule
What it is: A toner that contains 72.6% black bee propolis extract and 10% honey extract that will make your skin glow and smooth.
WHY THIS IS SPECIAL:
Collaboration with Sydney! :
Based on Sydney's experience in recovering UK lime water burst skin through COSRX Propolis Light ampule, we have made a product that can fit the ampule.
Toner that returns damaged skin from the external environment and increases skin immunity and makes your skin more radiant and healthy when used with Propolis Light ampoule.
Tonic with maximum content of propolis extract without water:
Formulated with 72.6% Black Bee Propolis, which is the highest content of propolis extract, as long as it does not affect the feel of the toner.
The highest amount of propolis extract among all other propolis products enables the toner to deliver maximum effectiveness of propolis itself, such as anti-inflammatory/antibacterial/recovery/enhanced immunity.
Non-rich, non-heavy gasoline type toner:
The viscous, essence-textured toner leaves your skin feeling light, non-sticky and absorbs faster into your skin the more you tap.
Create a synergy with the Propolis Light bulb:
A boosting toner and best-selling ampoule, the combination of two propolis products will make your skin plump and nourished even better than one.
How to use:
Apply as the first step in your skincare routine after washing your face.
Massage all over the face for better absorption.