---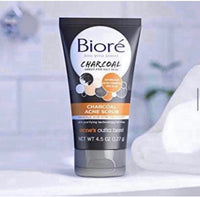 FOR BUTTONS
Bioré Charcoal Anti-Acne Scrub
Absorbs excess sebum to fight pimples.
PROPERTIES
This acne-fighting exfoliator, with natural charcoal, lifts dirt and oil that can cause acne, to attack pimples and smooth the skin beautifully.
Ideal for oily skin!
Improved skin in 2 days
Salicylic Acid Acne Treatment
Dermo-tested

HOW IT WORKS
With natural charcoal, the anti-acne properties of salicylic acid and a purifying agent that deeply cleanses the skin without irritating it, this product absorbs excess oil and loosens dirt to beautify the face in just two days.

MANUAL :
Wet your face. Take product in the palm of your hand. Apply all over the face, massaging. Rinse well, with moderately warm water. For best results, use up to 2-3 times per week.