---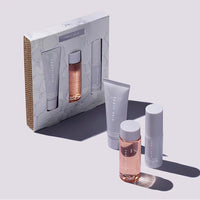 Description :
Starter ritual created by Rihanna for better skin in three simple steps: cleansing makeup remover, toning serum and moisturizing sunscreen in travel size.
Skin type:
Normal, dry, combination and oily
Skin issues:
Dark spots, dryness, and fine lines and wrinkles
Featured Ingredients:

- Barbados cherry (acerola): Each of these tropical cherries contains more vitamin C than an orange.
– Niacinamide (a form of vitamin B3): Helps reduce the appearance of dark spots, even skin tone and combat excess shine.
- Hyaluronic Acid and Aloe Vera: Help hydrate, soothe, and condition.
Ingredient information:
This product is also vegan and comes in recyclable packaging.
Additional Information :
This clinically proven, three-step regimen is oil-free, non-comedogenic, and designed to work best together to visibly brighten, target pores and dark spots, and hydrate and protect skin.
These travel-size minis are perfect if you want to try Fenty Skin's Start'r Set or travel with this one.
Scent :
- Fat Water: invigorating serum that tightens pores: sweet scent of cherry and golden fig
- Total Cleans'r Deep Cleanser: Cherry Coconut Scent
Hydra Vizor Broad Spectrum SPF 30 Invisible Moisturizer: Fresh Desert Melon Scent
This set contains:

–Total Cleans'r Mini Deep Cleanser, 1.52 oz/45 ml
- Fat Water Minserum, 1.7oz/50ml: Toning serum that tightens pores
–Hydra Vizor Broad Spectrum SPF 30 Invisible Mini Moisturizer, 1 oz/30 ml
Clinical results:
Total Cleans'r Deep Cleanser:
In a consumer study of 54 women after one use:
- 98% of users agree product thoroughly cleanses and refreshes skin
- 98% said it clears pores
- 98% of users agree product removes dirt and oil
Fat Water Pore Tightening Toning Serum: Pore Tightening Toning Serum:
In a clinical and consumer study of 54 women, after one week:
- 96% said it leaves skin feeling fresh
- 94% said it is quickly absorbed
- 94% said it purifies and softens skin
Hydra Vizor Broad Spectrum SPF 30 Invisible Moisturizer:
In a clinical and consumer study, after one week:
- 100% said their skin was smoother
- 100% said it doesn't flake under makeup
- 96% said it faded away on their skin