---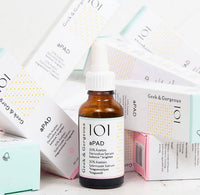 the description
Azelaic Acid is a clinically proven 3-in-1 active that helps reduce blemishes, pigmentation and redness. This formula uses a next-generation water-soluble form called Potassium Azeloyl Diglycinate (PAD) which has similar properties to azelaic acid but allows for an ultra-lightweight, oil-free texture. The two strengths of PAD are to even out the complexion and control excess fat.
5.5-6.5 pH
20% Azeclair (azelaic form) + Allantoin and glycerin

In this formula, 20% Azeclair is used, a solution containing 6% pure Potassium Azeloyl Diglycinate (PAD). While 6% might not seem like a high number, when it comes to DPA, it is a high %. The molecule is already effective and generally used at 1-3%. Studies performed by the ingredient manufacturer show that 3% PAD (or 10% Azeclair) is an effective amount to normalize oil production and even out skin tone, while a study published in the Journal of Dermatological Treatment used 5% PAD for the management of rosacea. .
Geek Tip: In our experience, people sensitive to niacinamide tend to find aPAD to be a particularly useful addition to their skincare routine.
Cruelty Free | Vegan | Fragrance & Essential Oil Free | Gluten Free | safe for Malassezia | Safe pregnancy

Who is it for?
aPAD is ideal if you are looking for an azelaic acid product that is also light in texture and layers well with other products. It is a formula for all skin types that we particularly recommend if you have pigmentation, excess oiliness or redness (rosacea).

skin type
all skin types including sensitive

skin problem
oily, uneven skin, tenderness, redness

Texture
fast-absorbing, thin gel consistency

how to use it?
Apply a few drops to the previously cleansed face, before using emulsions and/or creams. Can be used morning and/or evening.
Shelf life: 2 years from production (unopened), 6 months PAO (period after opening)
ingredients & research
key ingredients:
Potassium Azeloyl Diglycinate - A next generation azelaic acid derivative designed to be water soluble to enable lightweight formulas. It has an effect similar to Clinical Active Azelaic Acid 3-in-1 which helps normalize sebum production, even skin tone, reduce blemishes, pigmentation and redness. There are already a few studies using PAD: two used it for the management of rosacea here and here, and one used it for the management of melasma.
Allantoin - A classic skincare ingredient known for its skin soothing and protective abilities.
Glycerin & Methyl-Gluceth 20 - A gentle humectant combination to help skin retain water.