---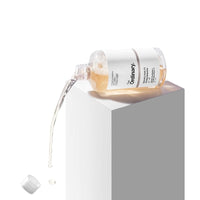 Glycolic acid is an alpha hydroxy acid contributing to the exfoliation of the skin.
This 7% lotion provides gentle exfoliation for brighter, clearer skin. This formula also improves skin texture with longer use.

It contains a derivative of Tasmanian pepper, particularly studied for its contribution to the reduction of irritations linked to the use of acids.
This derivative is of vegetable origin and its color varies according to the seasons: this color variation can be perceptible from one bottle to another.
The formula is also enriched thanks to the presence of ginseng root and aloe vera, with soothing benefits and visible effects on the skin's radiance.

pH 3.5-3.7
Alcohol-free, oil-free, silicone-free.
This product should not be applied to sensitive, damaged or damaged skin.
To be used ideally in the evening, no more than once a day. After cleansing, soak a cotton pad and wipe over face and neck. Do not rinse. Apply your usual care. In case of persistent irritation, stop use and consult a specialist.

CAUTION: This product contains AHAs which may increase your skin's sensitivity to the effects of the sun. Use sun protection, wear suitable accessories and clothing and limit exposure during the period of use and for one week after stopping.