---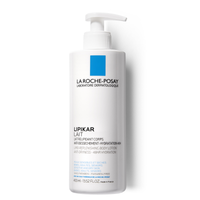 Lipikar replenishing milk from La Roche-Posay is specially designed for the body. It restores the right level of lipids to dry skin . It protects them against external agents (dust, bacteria, intensity of solar radiation...). At the same time, the product strengthens the skin barrier.
The formula is made for adults and children with sensitized and dry skin. Its effectiveness has been proven through pediatric and geriatric control. The results are felt from the first day of use.
This body milk is particularly suitable for dehydrated skin that is prone to tightness and feelings of discomfort. It is lipid-replenishing. The skin regains enough fatty acid with the use of this product. The latter can easily cope with external aggressions.
The cream is composed of niacinamide which moistens the skin and limits irritation. It also contains shea butter . This ingredient intensely nourishes the body. It restores suppleness and radiance to the treated areas.
Lipikar 48H Anti-Dryness Lipid-Replenishing Body Lotion contains La Roche-Posay thermal spring water. It is perfectly suited to sensitive and dry skin (babies, adults, seniors).
This lotion has a non-greasy and non-sticky texture. It is applied once or twice a day to the perfectly cleansed upper epidermis. It concedes a quick dressing, because its texture is neither sticky nor greasy.
The body retains perfect hydration for 48 hours following an application. After a few days of using the milk, the tightness and tingling disappear. Over time, the skin gains in softness and suppleness with a finding of 98% improvement.
It is advisable to shower with a non-aggressive cleansing base before opting for this treatment.
CONDITIONING
Lipikar La Roche-Posay 48H anti-dryness lipid-replenishing body milk comes in the form of a 400 ml bottle.
Apply once a day to skin previously cleansed with a mild product.