---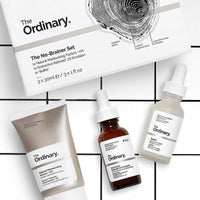 The Evidence Set will instantly improve your skincare routine. The perfect introduction to The Ordinary skincare range, this kit combines 3 bestsellers to hydrate and hydrate, reduce wrinkles, minimize visible pores, and improve skin tone and elasticity.
Why you need it:

The No-Brainer Ordinary Set includes 3 youth-boosting essentials to repair and regenerate skin - that's why it's a no-brainer! These 3 full-size treatments contain advanced ingredients to keep your skin's natural rejuvenation processes working over time.
This The Ordinary skin care set includes these 3 powerful treatments to combat the signs of aging, visible texture irregularities and the appearance of fine lines, wrinkles and dynamic or expression lines. They also strengthen the skin's moisture barrier and provide optimal surface hydration.
"Buffet" is a multi-peptide serum that powerfully tackles a wide range of skin aging issues at once. The peptide technologies included are Matrixyl 3000 (an anti-wrinkle complex), Matrixyl Synthe'6 (strengthens collagen and skin elasticity), Syn-Ake (relaxes expression lines), Relistase (improves elasticity skin), Argirelox (inhibits muscle contraction to reduce expression lines). The formula also contains a probiotic complex in a base of 11 skin-friendly amino acids and multiple hyaluronic acid complexes to keep skin healthy and hydrated.
Granactive Retinoid 2% Emulsion is a non-irritating form of retinol or vitamin A - the gold standard in anti-aging. It encourages skin cell renewal and renewal, reducing the appearance of fine lines and wrinkles, diminishing pigmentation and dark spots, and shrinking large pores. It diminishes the signs of photo-aging and helps eliminate scars and acne marks.
Natural Moisturizing Factors + HA is a non-greasy moisturizer that keeps the top layers of skin hydrated, soft and supple. It gives you both immediate hydration and long-lasting results with continued use. Natural Hydration Factors (NMF) are elements naturally present in the skin. They keep the outer layer of the skin protected and well hydrated. NMFs are composed of several amino acids, fatty acids, triglycerides, urea, ceramides, phospholipids, glycerin, saccharides, sodium PCA, hyaluronic acid and many other compounds.
How to use:

"Buffet" - Apply to the entire face morning and evening after cleansing.
Granactive Retinoid 2% Emulsion - Apply a small amount to the face in the evening after any water-based serum but before any cream or oil. Do not use with other retinol/retinoid treatments. Avoid unprotected sun exposure.
Natural Hydration Factors + HA - Apply after serums as needed for effective surface hydration. Can be used AM and PM.
Important:
Do not use Regular Granactive Retinoid Emulsion 2% with other retinol or retinoid treatments. Do not use if pregnant/breastfeeding. The use of direct acids (salicylic acid, glycolic acid, lactic acid, etc.) may increase skin sensitivity if used with retinols/retinoids. Please monitor your skin's reaction and reduce or discontinue use if necessary. Daytime SPF use is highly recommended when using Retinol/Retinoid products.
What's included:
Ordinary Natural Hydration Factors + HA 30ml
The Ordinary "Buffet" 30ml
The Ordinary Granactive Retinoid 2% Emulsion 30ml