---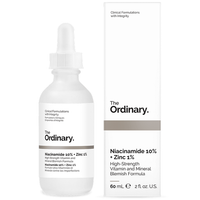 Ultra-Vitamin and Mineral Formula against Imperfections
An ultra-concentrated formula in vitamins and minerals to fight against skin imperfections and inflammation. Niacinamide (Vitamin B3), here highly concentrated (10%) reduces the appearance of imperfections and pore congestion. This formula also contains zinc salt of pyrrolidone carboxylic acid which helps regulate sebum production.

Contraindications: if Vitamin C is used in a skincare ritual, do not use Niacinamide 10% + Zinc 1% at the same frequency: you can use Niacinamide 10% + Zinc 1% in the morning, and Vitamin C in the evening by example.
Product benefit
Regulates sebum and tightens pores.
– the skin is better protected from external aggressions,
– it improves skin hydration by limiting its natural water loss,
– it helps to reduce the hyperproduction of sebum and to reduce the size of the pores of the skin,
– it also helps to reduce pimples and blackheads,
– it also helps to homogenize the texture of the skin for a smoothing effect,
– it improves the elasticity of the skin and helps reduce the appearance of fine lines and wrinkles,
– it also has a lightening effect on hyperpigmentation and pigment spots,
– it would also have effects on acne rosacea according to several studies,
This product is a treatment for oily skin, sensitive skin with redness, acne-prone skin.
Terms of use :
Apply all over the face morning and evening before your face cream.

Contraindications : If you use vitamin C topically as part of your skin care routine, vitamin C should not be applied at the same time as the formula (it is best to apply vitamin C at night, and formula in the morning). Otherwise, nicotinamide risks compromising the effectiveness of vitamin C in its pure form (ascorbic acid).