---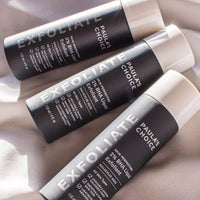 What does this product do?


Rediscover flawless skin with our world's best-selling exfoliator. This gentle, lightweight lotion quickly exfoliates dead cells both on the skin's surface and inside pores to bring out radiance, clarity and luminosity in the complexion. The BHA (salicylic acid) it contains regulates excess sebum and helps reduce blackheads, spots and redness.

main Features

Helps reduce blackheads and blemishes

Fast-absorbing liquid formula

Usage tips

Lightly soak a cotton pad in the product and apply all over the face and neck, including the eye area (avoid the eyelids and lash line). Do not rinse. For a 1st use, apply every 2 days and observe the skin's response. Then apply up to 2 times a day. During the day, follow with a day cream with broad spectrum sun protection SPF30 minimum.