---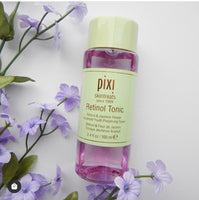 The description
Smooth and firm the contours of your face with PIXI Retinol Tonic, a lightweight toner that helps create a glowing complexion. Enriched with Jasmine Flower to soothe sensitive skin, the treatment absorbs instantly to deliver a rich combination of antioxidants and peptides, which work to plump and lift skin while protecting against environmental aggressors. Time-released retinol minimizes the appearance of fine lines and wrinkles for an anti-aging effect. After use, skin feels soft and supple and is infused with a luminous glow.
We love that Retinol Tonic brightens and tones skin to reveal a brighter, more youthful complexion. The cruelty-free formula includes Jasmine Flower to heal and balance and Retinol to renew and firm, but won't irritate skin like other retinol products sometimes can. Powerful antioxidants replenish skin for a smoother, softer appearance, and retinol rejuvenates skin for a natural glow. It is ideal for mature skin that may show the first signs of aging, as well as skin prone to breakouts or suffering from acne.


How to use it?
every evening after cleansing.