---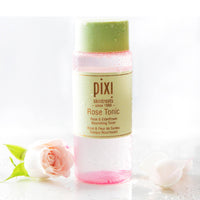 Naturally soothing and nutrient-rich, this toner helps tone, balance pH, minimize redness and soothe skin.
Rehydrates, regenerates and refreshes the toner based on rose hydrolate that hydrates and neutralizes the skin.
• Normalizes hydration levels and gently removes impurities.
• Suitable for all types of skin
• Alcohol-free
• Paraben free
• Not tested on animals
• Volume: 250ml / 8.5 fl oz
HOW TO APPLY
• Use morning and afternoon, or as needed.
• Step 1: Cleanse your face.
• Step 2: Soak a cotton pad in Rose Tonic and wipe it over the face, neck and décolleté (avoiding the eye area).
• Step 3: Follow with serum or moisturizer.
Ingredients
• Rose flower extract soothes and minimizes redness
• Elderflower softens, tones and illuminates
• Chamomile soothes the skin