---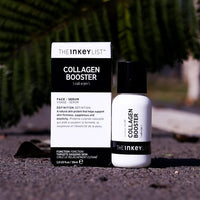 collagen booster
Collagen booster is a natural skin protein that helps support skin firmness, suppleness and elasticity. This is a face serum that tightens the skin and targets fine lines and wrinkles. As we age, natural collagen production begins to slow down, skin loses volume, and wrinkles begin to appear.
How to use collagen booster:
Use during the day and on cleansed skin. In the evening Apply a quantity of peas on the face and neck. Use fingertips to gently tap serum into skin. Can be used with other serums and moisturizers as desired.
Warnings:
If irritation occurs, discontinue use. External use only.