---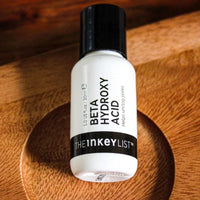 Description :
An exfoliant that works below the skin's surface to help unclog pores, target blackheads and reduce excess oil.
Skin type:
Normal, Mixed and Oily
Skin issues:
Oily skin, pores, and acne and blemishes
Formula :
Light liquid
Featured Ingredients:
- 2% Salicylic Acid: Helps gently exfoliate skin and unclog pores to reduce blemishes.
- 1% Zinc Compound: Helps regulate oil.
- 1% Multimolecular Hyaluronic Acid: Helps hydrate and plump skin.
Additional Information :
This oil-soluble, BHA serum exfoliates skin and cleans below the surface to fight blackheads and breakouts. BHA is a great choice for oilier skin, as its anti-inflammatory and antibacterial properties can help calm breakout-prone skin.