---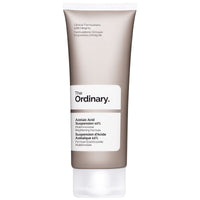 Multifunctional Lightening Formula

Azelaic Acid, found in cereals, is also produced by yeasts naturally present on the skin. Azelaic Acid awakens the skin's radiance and unifies the complexion, while reducing imperfections and redness. It is a multi-purpose ingredient for all skin types that also works as an antioxidant. This formula contains Azelaic Acid at a very high concentration of 10% in a light base with a cream-gel texture.
Product benefit
Visibly targets uneven skin tone, dullness and textural irregularities
Usage tips
Apply the azelaic solution morning and evening after your serum and before your moisturizer. Use sun protection if you apply it in the morning.

Capacity 30ml.