---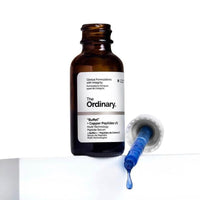 Multi-Technology Peptide Serum
This formula contains multiple technologies that simultaneously target the signs of skin aging:
- Copper Peptides known as GHK-Cu (Copper Tripeptide-1)
- Matrixyl 3000 peptide complex (with palmitoyl-pentapeptide 35)
- Matrixyl Synthe'6 peptide complex (with palmitoyl tripeptide 38)
- Syn-Ake peptide complex (with diaminobutyroyl benzylamide diacetate dipeptide)
- Relistase peptide complex (with acetylarginyltryptophyl diphenylglycine)
- Argirelox peptide complex (with acetyl hexapeptide-8 and pentapeptide-18)
- a Probiotic complex (with lactococcus lactis lysate)
All combined with a base of 11 amino acids and multiple Hyaluronic Acid complexes. The total concentration of these active technologies is 26.1%.
The "Buffet" + 1% Copper Peptides serum is different from the "Buffet" formula because it contains 1% pure Copper Peptides, known for their skin health boosting benefits. These peptides are found naturally in the human body and support many skin functions, such as collagen synthesis, fibroblast production, and anti-inflammatory responses. The presence of Copper Peptides in the formula gives a naturally blue color to the serum.
Product benefit
Visibly targets surface hydration, fine lines, wrinkles, dynamic wrinkles and textural irregularities.