---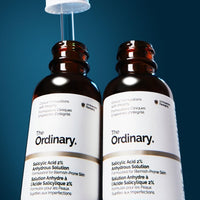 What does this product do?
A waterless serum for gentle exfoliation and decongestion of pores.
2% Ordinary Salicylic Acid Anhydrous Solution is a waterless product formulated to exfoliate the skin and help unclog pores. Direct acids, especially alpha hydroxy acids (AHA) and beta hydroxy acids (BHA), are renowned for their ability to promote the natural removal of dead skin. While AHAs aim to promote surface exfoliation, salicylic acid (SA), a lipophilic BHA, is especially good at targeting oil in pores that can lead to congestion. Regular Salicylic Acid Anhydrous 2% Solution offers salicylic acid in a squalane base formulated to reduce skin irritation issues that may be associated with the use of salicylic acid.
This formula is a waterless product formulated to effectively decongest the skin and give it an exfoliating effect. This will result in a visible reduction in texture irregularities, with improved evenness and clarity of skin tone over time.
DIRECTIONS: Apply morning and evening. Apply a small dot to the target area or apply a small amount to the face for general use. Do not use on sensitive, peeling or weakened skin. Avoid eye area and contact with eyes. It is advisable to test the patches before use: apply the product as directed to a small area once a day for three days to test if you are sensitive to this product. If you develop irritation, hives, swelling of the eyes and mouth, blisters, or difficulty breathing, rinse, discontinue use, and seek medical attention immediately. Keep out of reach of children.
Sunburn Alert: This product contains Beta Hydroxy Acid (BHA) which may increase your skin's sensitivity to the sun and in particular the possibility of sunburn. Use sunscreen, wear protective clothing, and limit sun exposure while using this product and for a week afterwards.